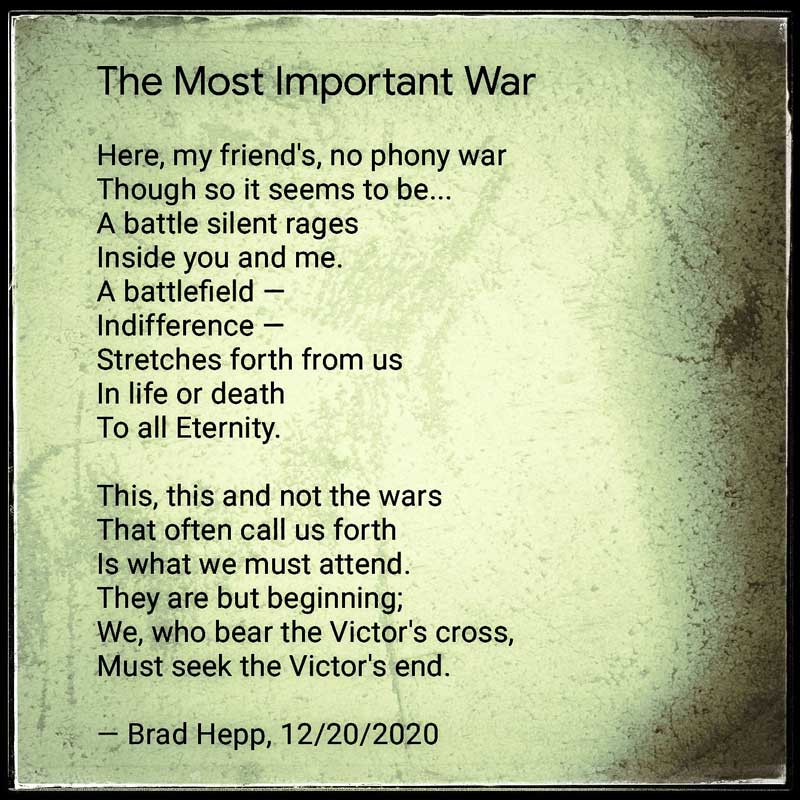 Commentary
Depressed tonight, I recognize a silent battle — THE silent battle — that rages in me and friends. We occupy ourselves with any conflict at hand rather than the conflict at heart. We are intended by God's merciful will to be fully won over in the battle to be reconciled, to be transformed into children worthy of fellowship with our Elder brother, Jesus Christ.
Jesus is the Victor. He won over sin that enslaves, weakens, and demoralizes us. He knows how we began; He also knows how we'll end. Getting us there is His kind purpose (the Victor's end).
So, why am I depressed? Largely because I see a problem in truly dear friends, a problem that probably afflicts me as well. They are — perhaps I am as well — occupied with silly, worthless conflicts. They are living in echo chambers that reinforce their perception that what they occupy themselves with is important. I sometimes despair of getting through to them. I don't want to argue with them. They sometimes "like" what I write, apparently not realizing that it is completely antithetical to the trivial pursuits, the phony wars that call them forth. Some undoubtedly see me in the same sad light.
I wrote on Facebook that we need to pray for one another. God alone is able to rescue us from meaningless, hollow lives. He alone can replace depression with love, hope, and commitment.