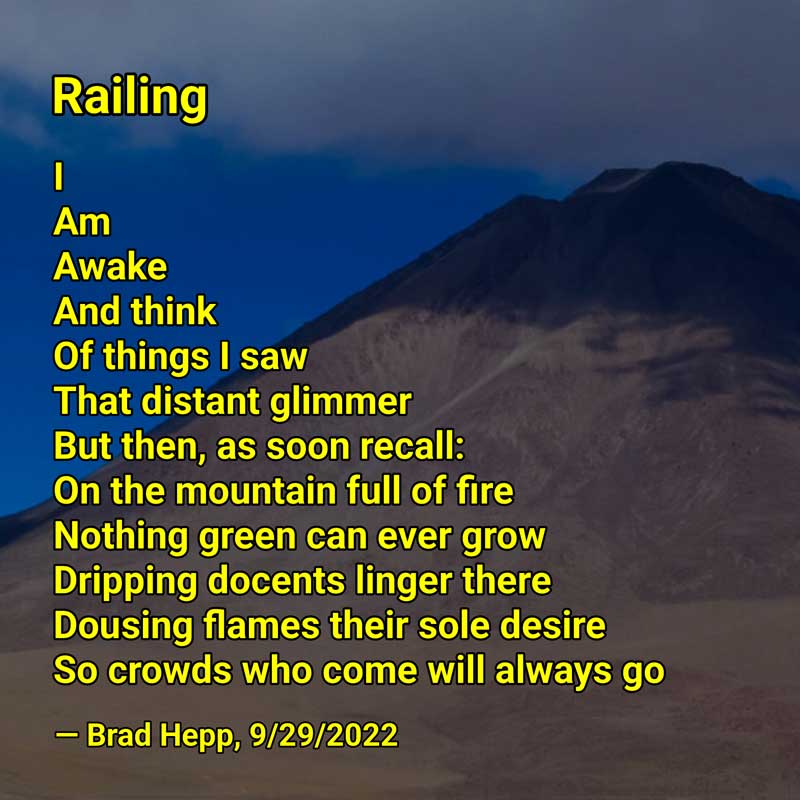 Commentary
On my walk yesterday, listening through Exodus, I heard this fascinating snippet:
And they saw the God of Israel. There was under his feet as it were a pavement of sapphire stone, like the very heaven for clearness. And he did not lay his hand on the chief men of the people of Israel; they beheld God, and ate and drank.

Exodus 24:10‭-‬11
When I encounter passages like this one, I want to explore, to stop and study. Not necessarily to study in an academic way… more to gaze intently until my senses have taken in the scene, so that like Mary I may ponder in my heart. But there are voices—do I only imagine them?—who murmur "Move along, and stay behind the railing."
The Poem's Structure
I woke up this morning and initially wrote the last five lines. As often happens with me, something subconscious was giving the poem physical structure by creating a pattern of line lengths. When I see that happening, I try to follow through. The poem was taking the form of a mountain, but it needed a summit. So I inserted the first seven lines.
Docents
I have toured many a museum, and been thankful to many a docent for guiding me there. I mean no disrespect by picturing them in this poem as dripping clouds who live only to put out sparks of curiosity. What am I actually picturing? Dull, strangling systematic theology, at least as practiced by some.
(background image by TravelCoffeeBook on Pixabay)