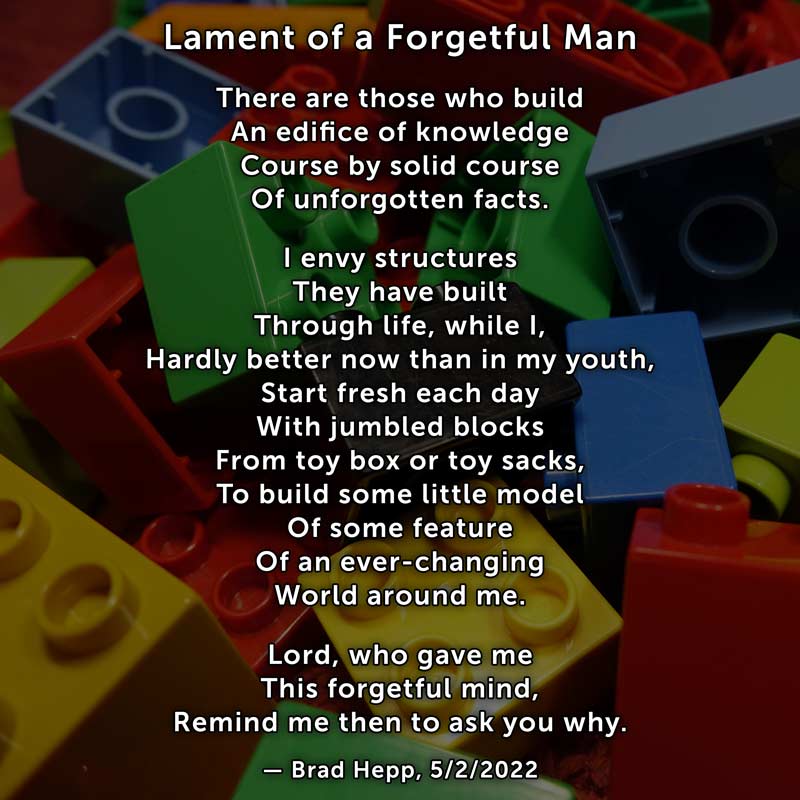 Commentary
I treasure friends who can remember what they read and study. They serve well. But how about the rest of us? What's the silver lining on a forgetful mind? This poem only poses the question, not an answer.
Teaching and Forgetfulness
You'd think that by my age, I'd have come to terms with my limitations. But I haven't, at least not fully. There are three things I ask God for on a regular basis: growth in 1) kindness, 2) discipline, and 3) ability to teach. How can I teach in any traditional sense, when I forget–or have trouble accessing–most of what I learn?! And If I DO remember, I discount my understanding so severely, that it's practically useless. Nothing has convinced me that sure access to confidently-held facts is anything but a diminishing proposition. In other words, the more I learn, the more I recognize my ignorance!
Salvation and Forgetfulness
I often think about what people mean by "salvation." One element that stands out for me is being rescued from a descent into uselessness, meaninglessness. In the poem above, I allude to my hope that I will ultimately be rescued from this descent, that my Rescuer will restore meaning, explain the utility of current limitations, and set me on an eternally satisfying course. Then, salvation will be complete.