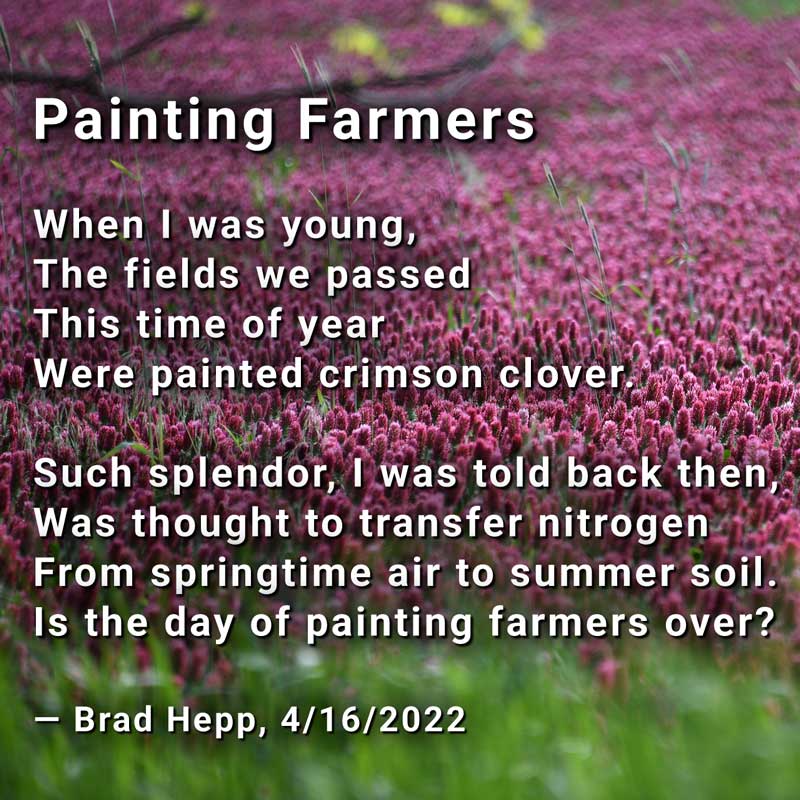 Commentary
You Go, Brain!
This poem is part of an ongoing experiment. Starting with a mundane thought, such as "I wonder if the fields near Van are ever covered with crimson clover like they were back in the 1970s," I start writing a poem, as quickly and as fluidly as I can. The line breaks are intuitive. I trust myself with rhythm and rhyme. Trust is the thing. I want my brain to be at ease when it's performing, to not be afraid of being judged. If the brain inserts some seemingly inappropriate nerdiness about nitrogen fixation, don't stop it. Let the brain ramble. It may have more to say than I realize.
Does it Mean Anything?
I'm generally old-school about authors and their intent. I expect what I write to convey a proposition. But the longer I write poetry, the more I realize that there are subconscious truths that emerge in our writing. In this poem, my unbridled brain conflated a plant–crimson clover–with a color of paint, and a farming practice–sowing cover crops–with painting. This suggests something to explore: Do we humans recognize the creation and expression of beauty as fundamental in our other activities? Do we know, deep down, that we are all artists in one way or another?