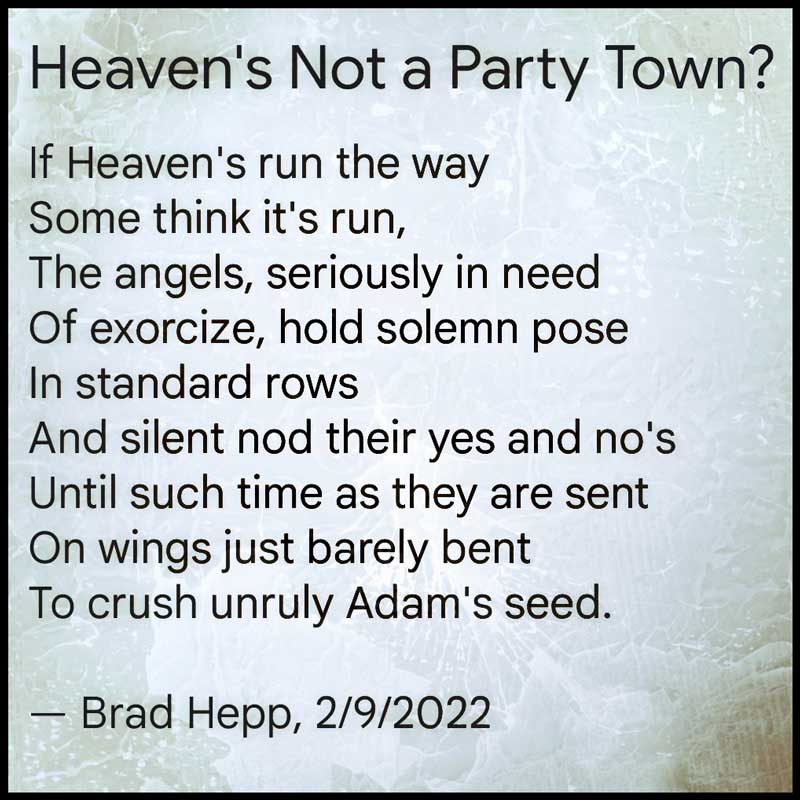 Commentary
On my walk yesterday, I finished listening to Henri Nouwen's The Return of the Prodigal Son. It got me thinking about how God views the little triumphs so far and few between in His fallen world.
Why does this matter to me? There are two reasons. First, it matters because considering it is what I should do. Jesus' parable of the Prodigal Son prompts us to compare ourselves not only with a prodigal or a resentful older brother, but also with a compassionate, generous, and joyful father. Nouwen spends the last third of his book driving that last point home.
A second reason why this matters is that it relates to my current state of mind. I wrote about this already in my commentary for "Beauty's Time Tabled." In the arc of my reflection on how evil has been manifest in my own life, the life of the Church, and the life of my nation, I have come to a significant point. Having fancied for some time that my thinking and my poetry might yield fruit beyond my own life, I have begun to dial down my hopes and expectations. The best I can realistically hope for is limited and isolated triumphs. That's reality in a fallen world.
So how should I respond to this disillusionment? Does God's joyful response to limited triumphs serve as a model for me?
Heaven is a Party Town
The Parable of the Prodigal Son is one of three parables that Luke puts together (in Luke 15): The Lost Sheep, The Lost Coin, and The Prodigal Son. A common element in the three parables is the joyful celebration. The shepherd, having brought home his one errant sheep "calls together his friends and his neighbors, saying to them, 'Rejoice with me, for I have found my sheep which was lost!'" (Luke 15:6). Jesus, who knows well how Heaven is run continues,
I tell you that in the same way, there will be more joy in heaven over one sinner who repents than over ninety-nine righteous persons who need no repentance.

Luke 15: 7
When the woman finds her one lost coin, she likewise calls together friends for a party. And again, Jesus compares her response to the joyful response in Heaven:
I tell you, there is joy in the presence of the angels of God over one sinner who repents.

Luke 15:10
Then we get to the much longer Parable of the Prodigal Son. By now, we know to equate the earthly father's response to God's:
But we had to celebrate and rejoice, for this brother of yours was dead and has begun to live, and was lost and has been found.

Luke 15:32
If God and His angels celebrate small triumphs, can I? Will I? Or does everything have to work out just as I wish in order for me to be happy? Would I be a party pooper in Heaven?
The poem mocks my own severe view of things. Luke was severe. He clearly had high standards for our response to God. But he was careful to record what Jesus said about Heaven's response to small triumphs: it's a party town, where music and dancing can clearly be heard even by a resentful older brother standing outside.