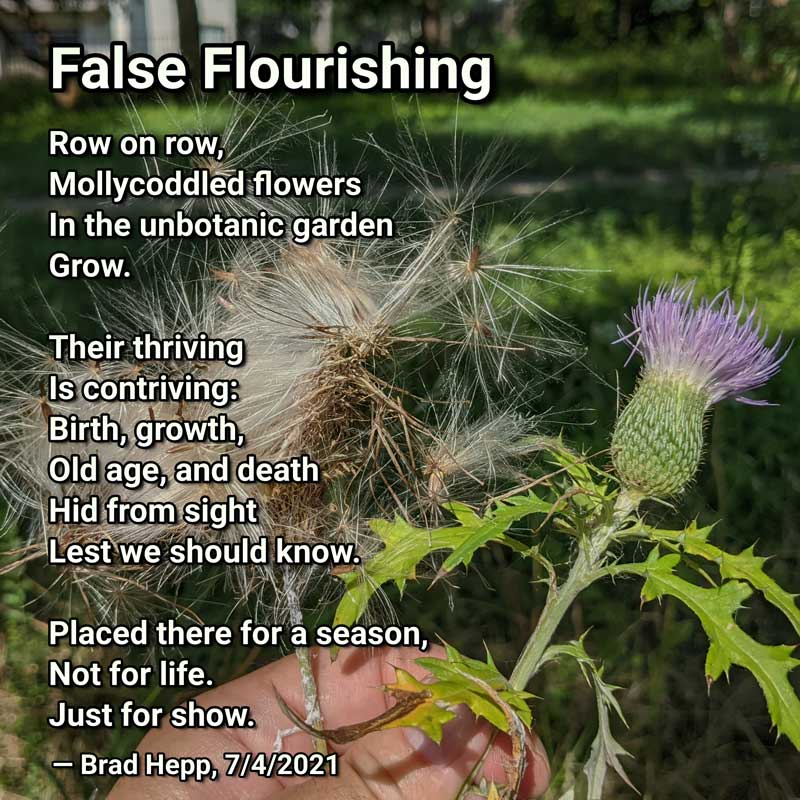 Commentary
The photo in the background of this poem is of two stages in the full life of a thistle. On the right is the bloom that people admire. On the left is something less admired… what the same bloom will look like when it has gone to seed, and the wind begins tearing it apart.
This full life cycle is something I have been observing on my long walks. One late-summer day, I was lamenting that there were no more flowers to photograph. Then, I began looking more closely at the seeds that those flowers had produced. Their shapes, textures, even colors are every bit as fascinating as — and far more promising than — the blooms that preceded. Nowadays, while I enjoy walking with my wife at the Botanical Gardens, there's something sad there about not seeing this great achievement of flowers: their seed.
Flourishing
This poem arises from something I have been considering lately: the nature of flourishing. What does it mean to thrive, to prosper, to flourish? Here's one hypothesis…. Flourishing is wrongly viewed as a short-term concentration of obvious vitality: the plant in bloom, never gone to seed; a dash, not the trek of a million miles; something exhausted in 80 years… or even less, in a life 'cut short.'
I recently watched a conversation between Miroslav Volf and David Brooks. A friend had referred me to Volf's "Joy and Human Flourishing," in response to my question, "Who does a good job of tracing the concept of 'flourishing' through the Bible?" If I understood Brooks correctly, he objected that Volf needs to better account for suffering as a possible component of flourishing. That objection resonates with me.
In the Genesis 1 account, the first organisms are created on day three. Notice the prominence of "seed" in their description:
And God said, 'Let the earth sprout vegetation, plants yielding seed, and fruit trees bearing fruit in which is their seed, each according to its kind, on the earth.' And it was so.

Genesis 1:11
We tend to be so fixated on the blossom that we ignore what comes as a result: seed. But it was in reference to "plants yielding seed" that "God saw that it was good." Who can seriously say that the thistle, gone to seed, then torn and scattered by the wind is not flourishing?
What's Next?
Where I seem to be going with this line of thought is that true flourishing requires eternity.