This poem comes out of struggling with what constitutes love for the Creator. Is it only fixation on signs of his return? Will we even recognize his voice then if we cannot recognize it now?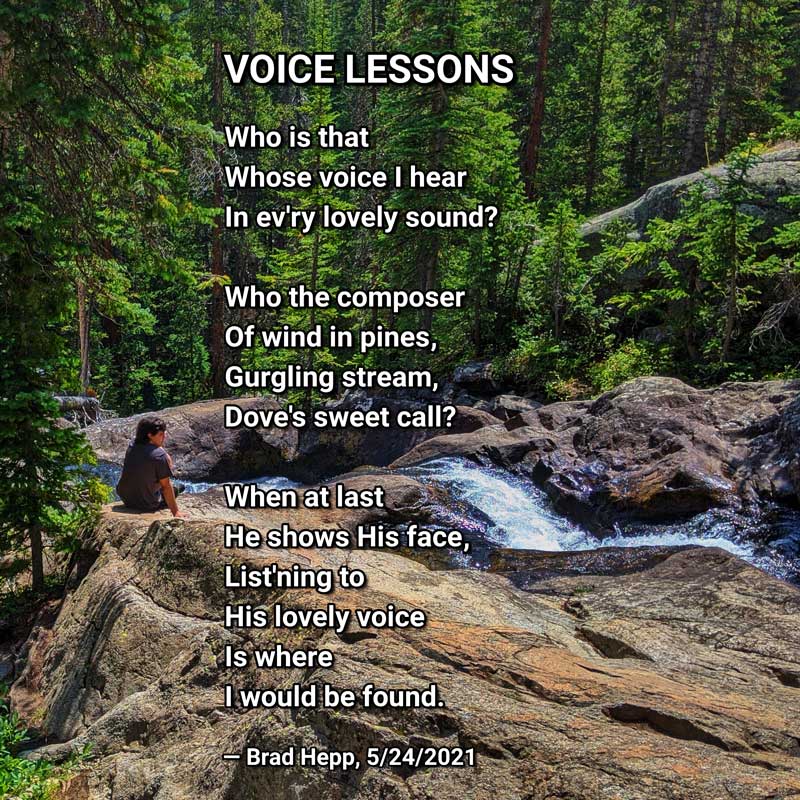 [NOTE: the following may be gobbledygook. Perhaps I'll wake up early tomorrow morning and do major edits to the post, or even take it offline. That occasionally happens. Let's just say for now that I'm "thinking out loud." I'm trying to put words to something I sense more than understand]
Not Just an Expression
Nature expresses the majesty of the Creator. King David spoke of that in Psalm 19:
1 The heavens declare the glory of God;
the sky displays his handiwork.
2 Day after day it speaks out;
night after night it reveals his greatness.
3 There is no actual speech or word,
nor is its voice literally heard.
4 Yet its voice echoes throughout the earth;
its words carry to the distant horizon.
Creation and the Creator are not the same thing. That would be pantheism. HOWEVER, let me suggest that creation bears the same relationship to God as the soundwaves of speech bear to the speaker: they are his expression. When a child hears her father say, "I love you," she doesn't look around and say, "How curious… sound waves emanated from somewhere and landed in my ears." If she separates the sound waves from the speaker at all, it's only to say, "Those sound waves tell me that Daddy loves me."
Nature expresses the majesty of our loving Father. Perhaps it would be better to say that in creating the universe, our Father spoke to us, He expressed his glory (intelligence, kindness, power, beauty, love), and creation is the "sound waves" of His voice.
Are we impressed by what He has expressed? That's not an idle question.
"They're Just Flowers"
Long ago and far away, I accompanied two friends on a long hike. Our path entered and followed an arroyo. At one place the walls of the arroyo were covered with tropical flowers. "How beautiful!" said one friend. I agreed. "They're just flowers!" said the other friend. To this day, I think of that second friend's response with pain and sadness. God's beauty was there speaking to us in those flowers, expressing His powerful love. But the second friend was not impressed. He seemed to make no connection between creation and the Creator, between the expression — the "words" — and the Speaker. For him, it seems, Daddy wasn't saying "I love you." It was just flowers, random sound waves from who knows where.
RELATED POST: The Day Trees Became Weeds.