If this NEVER happens to you, please spend time with me. Perhaps you can pull me up, and I won't pull you down.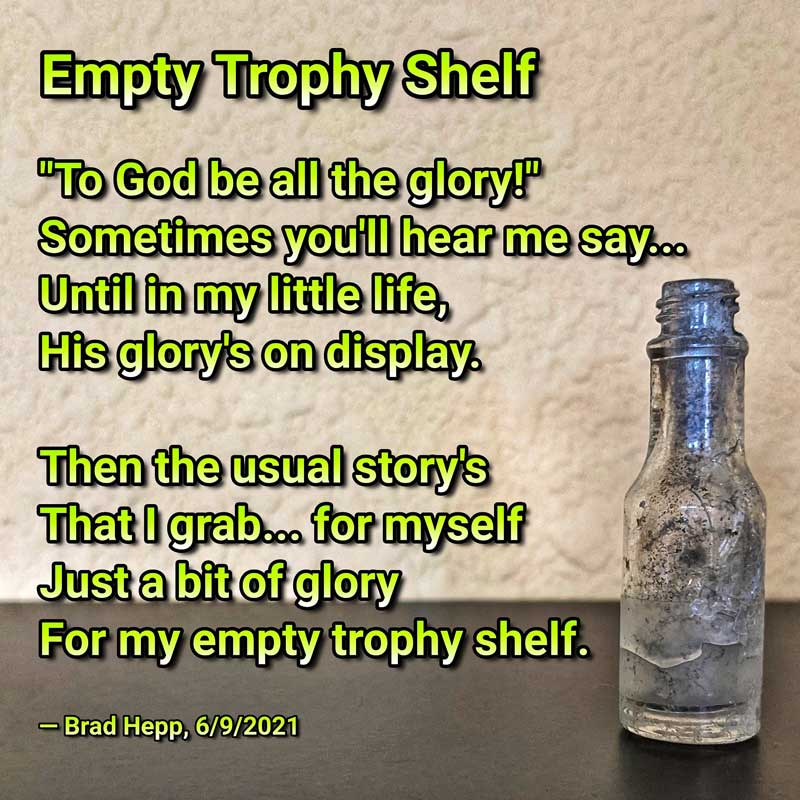 Commentary
It's almost impossible to write this commentary without doing the very thing I do NOT want to do: to claim credit for something God has empowered me to do. But I'm tempted, over and over. I've succumbed often enough to know the short-lived intoxication.
Is it wrong to feel affirmed in our exercise of God's gifts, even to revel in them? I don't think so. Don Regier and I talk about this occasionally. As a fellow creative, he knows what it's like to create something and then to enjoy the creation. Don points out that we are made in the image of the One who looked on His creation and concluded that "it was very good."
Where does appropriate affirmation and pleasure bleed over into inappropriate pride? I'm still trying to figure this out, to put my finger on just when I go astray. But I sense it when I'm overstepping. Perhaps the Holy Spirit makes me aware.
The empty trophy shelf…
I do have a sort of trophy shelf in my office. There are two actual trophies that I won back when I was running competitively. Everything else on the shelf is a memento: rocks from mountain climbs, a music box I made for my grandmother, a fun photo edit I collaborated on with Glenn Clark. The actual shelf is not empty. In fact it's overcrowded: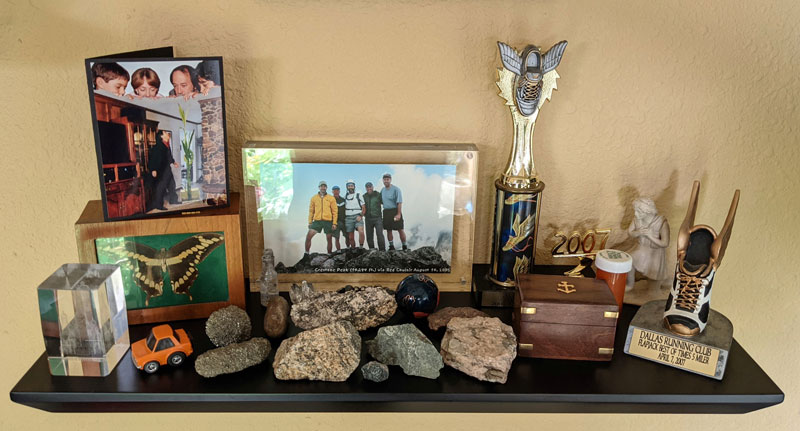 While the shelf is not empty, I find that some of the trophies I'd like to display there and elsewhere ARE empty, vapid, vanishing as soon as displayed. The substance of those trophies is like whatever was in that little bottle I found in the firepit at high camp below Blanca Peak. It meant something to someone long ago. What's left now is just a little broken bottle. As far as trophies go, it's quite empty.