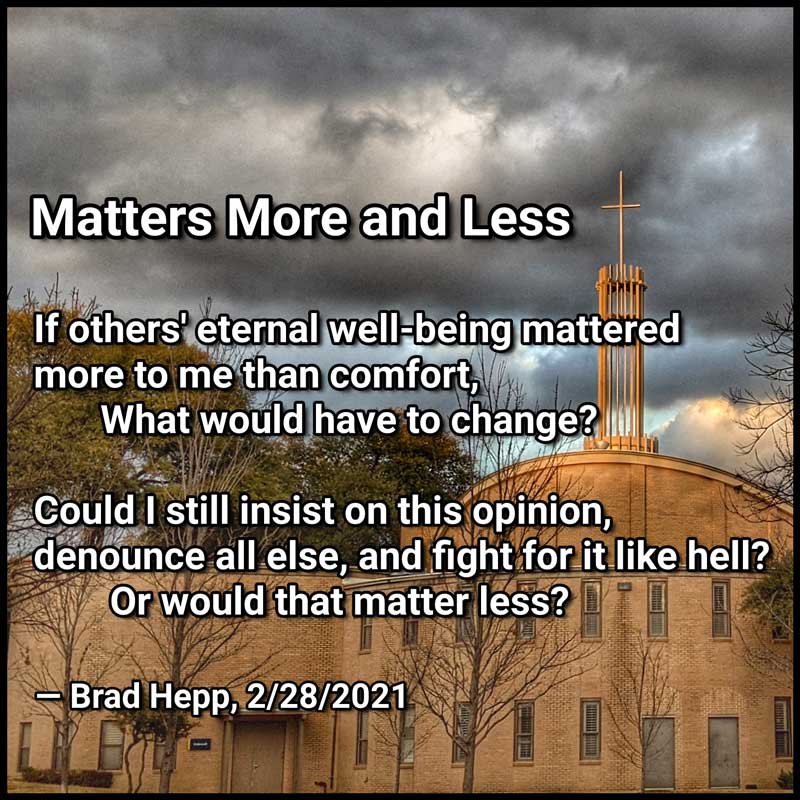 Commentary
BACKGROUND
Recently, I have been trying to imagine what it might look like to be in a church that welcomes people from all kinds of backgrounds. Would I be willing to give up my comfort for their sake? What if they're REALLY different? What if their politics are different than mine, different than the politics of most others in the church? Would we be able to keep things in perspective, or would we chase them off because their politics make them feel like pariahs?

Which is more valuable: a soul, or my opinion?
I was once part of a church plant where my chief motivation was comfort: I wanted to be comfortable with the style of worship, and the kind of people I'd be worshipping with. Now, I recognize comfort as an idol. Doubtless, I retain — and am even now creating — other idols, things that are more important than God's glory. May He have mercy on me.

SEE THE DARK IRONY?
I'm not smart enough to have intended the searing irony in the next-to-last line. "Like hell" was drawn lightly from recent events. But there is a reality darker than current darkness, infinitely more consequential than current comfort.

THE PHOTOGRAPH
The background photo is of St. John's Episcopal Church, which I pass by on my walks from home to Flag Pole Hill. One evening, the clouds were threatening. I confess: "HDR Scape" in Snapseed accentuated the drama. Do I feel bad about editing a photo? Not in the least…. It's part of artistic expression. I'm not a mimeograph!