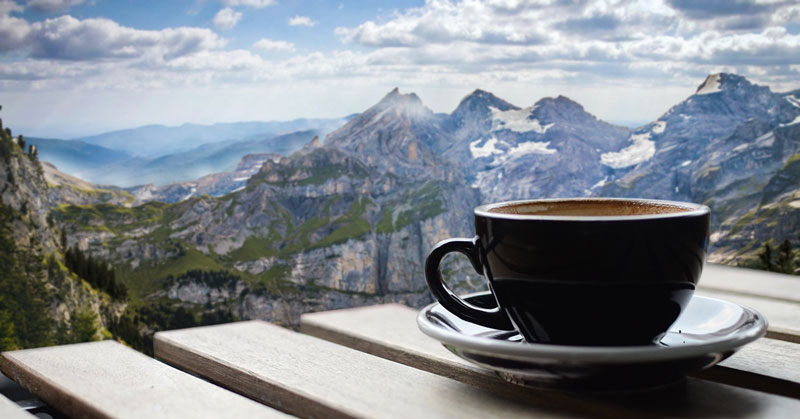 It's Monday, February 3, 2520. The Storyteller has invited me to grab coffee with Himself and one of my old enemies. It's not the first time this has happened, so I know what to expect.
An angel serves us coffee and the Storyteller tells him, "Pull up a chair. This one involves you."
"As you know, Brad, I have invited an old enemy of yours. He should be here shortly. In the meantime, how about that view!"
It's the view I used to describe to my son: "When you grow up, and make your first million, buy me a house in the hills. It should have a covered porch, and it should overlook a valley with tall mountains across the way." Clearly, this location was hand-picked. Someone remembered!
About then, my former enemy shows up, guided by another angel. He looks around and flashes a sheepish grin. Apparently, this is not his first story.
After dismissing the guide angel, the Storyteller says, "Have a seat, John. You remember Brad?"
An angel from the kitchen brings out another pot of coffee and an additional cup and leaves them on our table. The Storyteller pours a cup for John, and then begins….
"Brothers," he says to me and John; "And you as well," He smiles at the angel. "It was 500 years ago. Brad here was praying, in that distracted way that always made me chuckle. He got to the part of his list that he titled 'Difficult.' I agreed with his title. Praying for his enemies was difficult for him. Hearing him pray was difficult for me! In addition to his distraction, there was always his struggle with bitterness. But he tried, and that pleased me."
"John, Brad prayed for you. He asked the Father to grant you success in your ministry, physical, mental, and emotional health, and continued spiritual growth. Brad didn't have a lot of imagination, so his prayers for you were usually along those lines. Now let me tell you how we answered his prayers….
The Storyteller goes on for several hours, with a tale totally out of proportion to the minutes I once spent in prayer for John. He includes the angel, pointing out how he was employed in answering my prayers.
A few cups of coffee later, He concludes, "So, that's how Brad's prayer moved Heaven and Earth in your behalf."
Then He turns to me.
"Brad, come back tomorrow. I have also invited a fellow you probably don't remember. But he remembered you, right at the top of his 'difficult' list. Boy, do I have a story to tell him!"
— Brad Hepp, 2/3/2020
MOTIVATED? See my Resources Page for recommendations on a little app that may help you pray more regularly: https://www.bhepp.us/resources/#prayer