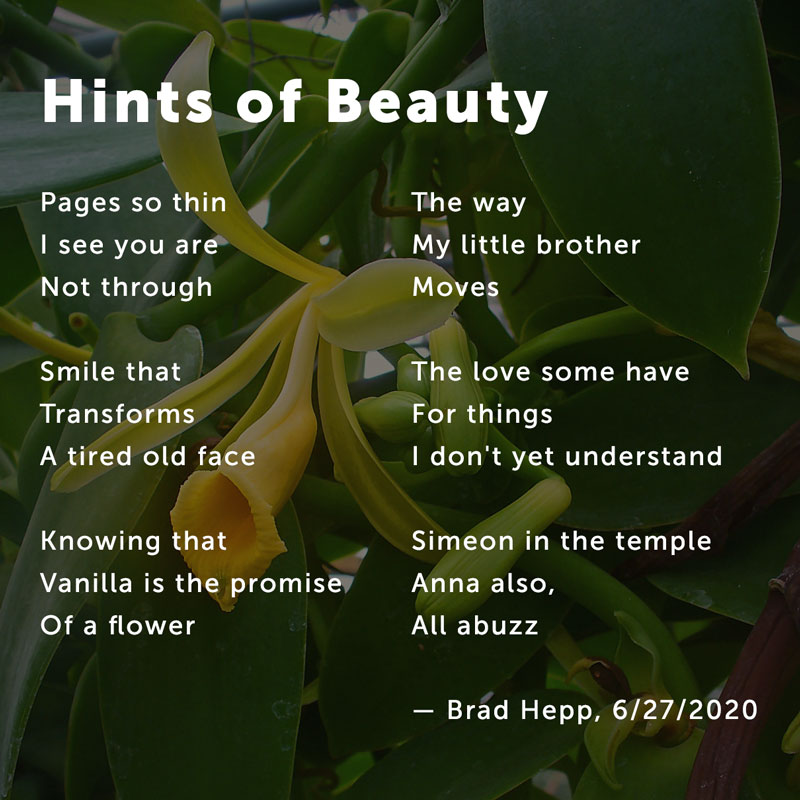 Commentary
At Christmas, we often hear a child recite the first 20 verses of Luke, chapter 2. That's beautiful. But it's the section immediately following that affects me most deeply. When the child Jesus is presented at the temple, Simeon and Anna recognize that they are witnessing something that will change the course of history. They have both waited a lifetime for the "consolation of Israel," the "redemption of Jerusalem." And here He is!
Pages so thin
This is the least emotionally honest of the stanzas. On those rare occasions when I pick up a printed copy of the Bible to read (my go-to is digital text), I can see through the thin pages to printing on the other side. I am not actually moved by BEAUTY when I see that. Rather, what that points to in this stanza is thematic. What all the other stanzas have in common is the anticipation of beauty replacing ugliness. MacDonald said it well: "The end of the Maker's dream is not this." I think that anticipation of beauty is what affects me.
Smile that transforms
One day, my son and I were waiting at Sonic for the waitress to bring our order out to the car. As we waited, Jonathan commented, "She doesn't seem very happy." I responded, "When she comes out, give her a big smile, and watch what happens."
She came out, holding our tray of burgers and fries. Jonathan flashed a big smile at her, and her tired old face twisted into a responding smile. After we rolled up the window, I asked Jonathan if he had seen the transformation. He had!
I am looking forward to the smile of God, in the restoration of all things (see "Violets").
Knowing that vanilla
Last year, I had spent months photographing flowers on my walks. In Autumn, the flowers were spent, and I wondered what was left to photograph. Then I started looking closely at what had become of the flowers. Seeds, of course. And some of the seeds were also beautiful and fascinating. But what really grabbed me was the realization that seeds are not the end of beauty, but its beginning (see "Dawn of Eternity").
The way my little brother moves
I love to watch young children moving to music. There is one video in particular that comes to mind. I believe it may be a young Malawi boy moving subtly to music. His smile and movement are enchanting. So why "my little brother"? I'm the youngest of my family. I don't literally have a little brother. Rather, I look forward to a day when barriers are removed and we can fully enjoy the brotherhood of man — with all its cultural diversity and beauty.
The love some have
I have had several exchanges about language with my Ethiopian friend Yohannes. When he points to beautiful speech and ideas expressed in Amharic — a language I do not know — I tell him I'm jealous. His response: "That's beautiful my friend. It speaks of a lot of good things. The wonderful thing is that one day we shall all understand!"
Simeon in the temple
I wrote above that the accounts of Simeon and Anna in Luke 2 affect me deeply. Here's how deeply…. Once, I was walking around the lake listening to an audio version of the Bible. When I got to the account of Simeon and Anna, tears started streaming down my face. It was a good thing nobody else was out walking that day. Why was I so moved?
Simeon and Anna were both very old. They would soon die. But this child filled them with hope. Perhaps it was "merely" hope for their people. But you and I know the rest of the story. Thirty-something years hence, Jesus would die a death that will forever put an end to death and ugliness. His Resurrection from the grave demonstrated God's power and pleasure in restoration. Like all who believe, Simeon and Anna will once again embrace their beautiful Creator.