This poem is about photography AND learning from older people. See the commentary below.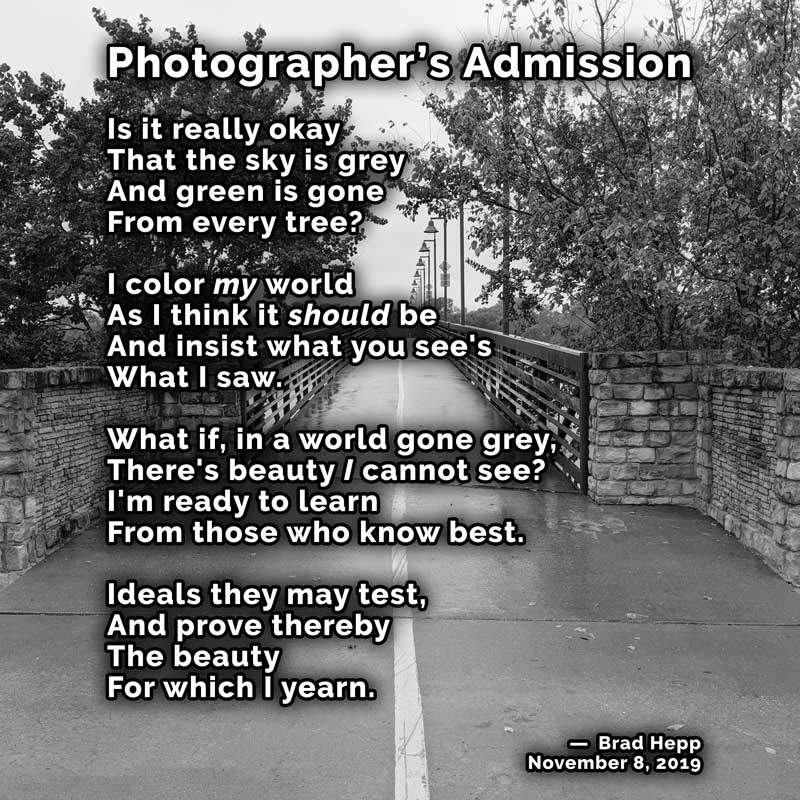 Commentary
The thought in this poem crystalized as I was looking at a friend's Instagram photos. The friend is not a photographer, just someone who understands and appreciates the great outdoors. I was looking at one of his early-morning mountain scenes. The sky was literally grey and the trees had no green in them. The photographer in me always aches to edit such photos so that they match my ideal of beauty, and I often excuse my own editing as an attempt to make sure the photo depicts the scene as our magnificent human eyes would have seen it. This all assumes or suggests the conceit that I am the expert, that my vision is the standard.
But my photography and poetry are expressions of something far more important: the desire to fully appreciate and reflect the beauty inherent in a world created by God. In this pursuit, I revel in the wisdom that is both longed for ⁠— loudly insisted on ⁠— by youth and quietly attained in old age.
Perhaps what I wrote on Facebook will clarify:
Here's a book that needs to be written: "removing THE BARNICLES OF CHRONIA." I say this partly in jest, partly "en serio." As I age, and come to important new realizations about life, I think of my older friends. Many have been down this road already, but were not inclined to chronicle the journey. It seems that we could serve others by offering an honest, thankful, hopeful account. Thoughts?

[Edit, 11/8/2019: Last night, I discussed the project above with fellow creative writers. It's still on my mind. The poem and photograph below ponders the subject by different means.]
By the way, I know the last stanza is difficult. I'm using "prove" in the sense of "testing so as to find what works." I think that a full appreciation of beauty is attainable. I fancy that is one of the things that God is even now perfecting in His children. But we all have false or incomplete ideas about beauty in its various manifestations (visual, physical, emotional, intellectual, theological, etc.). For instance, I highly suspect that I still have a false idea about the relationship of beauty and suffering: "Suffering is bad, not suffering is good!" How can suffering have anything to do with beauty?
The answer to the question I just posed is one which I suspect people older than I — and some younger than I — understand far better than I currently understand it. The answer surely goes something like this: through suffering, we are prepared for the beauty that is coming. The answer is somewhere in Romans 8. Perhaps in this passage:
16 The Spirit himself testifies with our spirit that we are God's children. 17 Now if we are children, then we are heirs—heirs of God and co-heirs with Christ, if indeed we share in his sufferings in order that we may also share in his glory. 18 I consider that our present sufferings are not worth comparing with the glory that will be revealed in us. 19 For the creation waits in eager expectation for the children of God to be revealed.

Romans 8:16-19 (ESV)