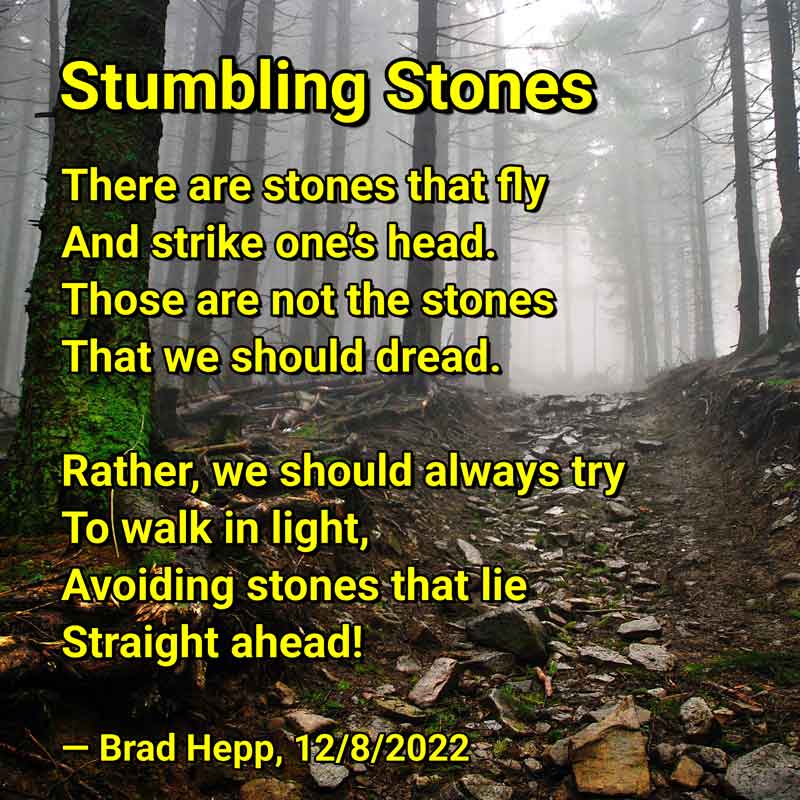 Commentary
The disciples said to him, "Rabbi, the Jews were just now seeking to stone you, and are you going there again?" Jesus answered, "Are there not twelve hours in the day? If anyone walks in the day, he does not stumble, because he sees the light of this world. But if anyone walks in the night, he stumbles, because the light is not in him."

John 11:8‭-‬10 ESV
Jesus had left Jerusalem, where religious leaders were trying to stone him. He and his disciples were on the other side of the Jordan River, enjoying a fruitful ministry. But it was time to return to Judea, and his dying friend Lazarus. There he would demonstrate his power and love.
The disciples objected, basically saying, "Protect yourself! They're trying to kill you in Jerusalem."
Jesus' response was curious… at least to me. Instead of dealing with the immediate danger of being stoned to death, Jesus talked about walking in light, to avoid stumbling.
Stoning and stumbling…. Both involve stones. Maybe that's the connection in Jesus' curious response. Perhaps he was aware that a fearful avoidance of suffering—at the hands of those who wished to stone him—was itself a sneaky stumbling stone he and his disciples must avoid.
That's the interpretation I probe with this poem.
Stones that fly
And stones that lie...
Either one can
Take you down!
(background image by Jerzy Górecki on Pixabay)