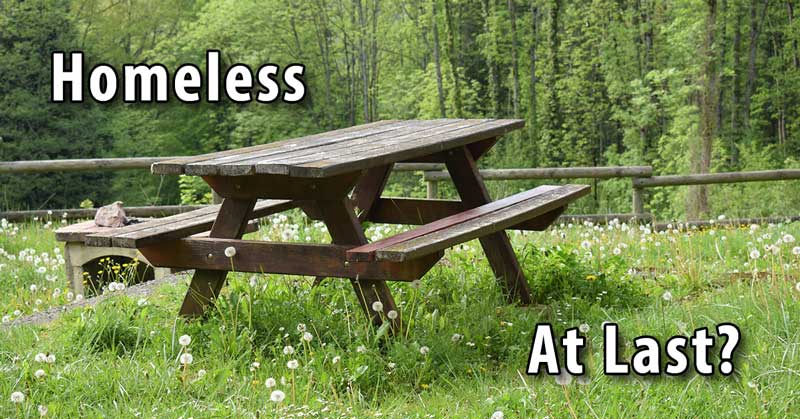 Twenty months ago, seven miles into a hike, I suddenly had to sit down. It wasn't from physical exhaustion. It was from the sudden realization that I was leaving the comfort of a familiar identity. There, at a picnic table, I wrote this reflection. Then I resumed the hike. A journey had just begun.
May 25, 2020
A HOPEFUL LAMENT ON MEMORIAL DAY: HOMELESS AT LAST?
I can tell you where I was when I learned that my best friends were homeless. In two cases, it was on the road, as we drove to the mountains. In another case, it was sitting in my friend's back yard. In a fourth case, I'm not as sure of where we were as of what we were discussing.
As I look back now, those revelations, spanning several decades, fill me with emotion. That my friends have gone this many years feeling the loss I now feel makes me sad.
POLITICAL EXILES
Christians should be good citizens of whatever nation they live in. But if they set their heart too firmly on the advancement and perfectability of that nation, they are setting themselves up for disappointment. I could have told you this when I was a young man. But saying and knowing can be miles — and decades — apart.
Recently, I have observed fellow believers identifying closely with every bit of goodness, evil, and sheer stupidity of "their" particular side of an increasingly polarized political scene. It has now degenerated to the point that I simply cannot join them in identifying with the left or right. I'm feeling homeless.
My closest friends tend to be smarter and wiser than me (of course they are, but that's not my point!). They grew past my naiveté long ago. They understood what I'm just now coming to understand — that we are exiles, citizens of a Kingdom yet to be fully and finally established.
Perhaps this day of sadness is also a day of celebration. Realizing at last that I am homeless is a very good thing. Now I can fall more fully in love with the hope to which I was called.
RELATED QUOTES
The heart of the wise is in the house of mourning, but the heart of fools is in the house of mirth.

Ecclesiastes 7:4 ESV
But you are a chosen race, a royal priesthood, a holy nation, a people for his own possession, that you may proclaim the excellencies of him who called you out of darkness into his marvelous light.

1 Peter 2:9 ESV
These all died in faith, not having received the things promised, but having seen them and greeted them from afar, and having acknowledged that they were strangers and exiles on the earth. For people who speak thus make it clear that they are seeking a homeland. If they had been thinking of that land from which they had gone out, they would have had opportunity to return. But as it is, they desire a better country, that is, a heavenly one. Therefore God is not ashamed to be called their God, for he has prepared for them a city.

Hebrews 11:13‭-‬16 ESV