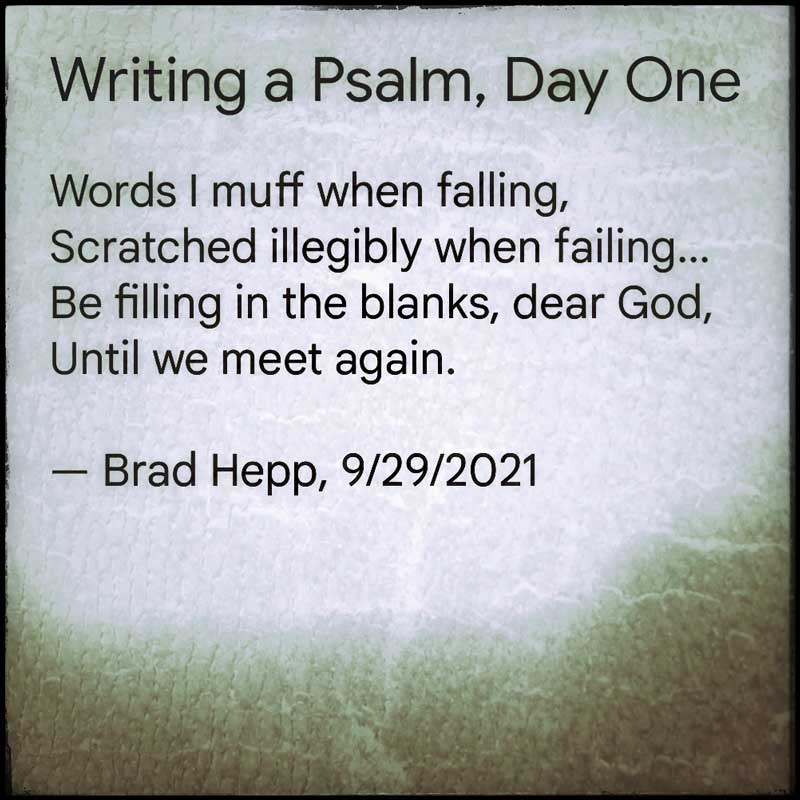 Commentary
I'm not very good at understanding poetry (feel free to join me in laughing at this ironic weakness). But I'll give this one a try….
I woke up early this morning, my mind churning about what seem to be intractable problems. I say "churning." It was not productive thought. It seemed that no matter how hard I tried, I could not state the problems in a way that would suggest solutions. I was flailing: "falling… failing."
Falling, Failing… Filling
The pictures in my mind as I wrote the first two lines were first of a man falling off a cliff, crying out indistinctly; and second, of a man trapped and dying (failing) in a pitch-black cave, blindly scratching words on the cave wall. In both cases, the words seem to be of no use.
But words are sometimes more useful than they seem. In the writing of this poem, the words "falling" and "failing" led my little poet brain to another gerund: "filling." Call it serendipity; I call it poetry: following words where they lead. Try as I may to be intentional, sometimes I'm just accidental.
So… "filling." There was no distance between landing on that word and landing on the phrase "filling in the blanks." And who could fill in the blanks? Who knows me through and through? Who knows the end from the beginning? God, of course.
Sometimes we simply don't know what to ask of God. That's when we'd do well to remember something that's probably happening more of the time than we realize:
Likewise the Spirit helps us in our weakness. For we do not know what to pray for as we ought, but the Spirit himself intercedes for us with groanings too deep for words.

Romans 8:26
"Until we meet again"
This line may disturb the reader. It's trite, something we'd say to a mere fellow human. But it gave me great comfort to write the words. God doesn't require our undivided attention. He generously works in our behalf while we go about our day, and even while we sleep at night:
Unless the Lord builds the house, the builders labor in vain. Unless the Lord watches over the city, the guards stand watch in vain. In vain you rise early and stay up late, toiling for food to eat—for he grants sleep to those he loves.

Psalm 127:1-2
Writing a Psalm, Day One
Since we can finish reading most Psalms in a matter of minutes, it's tempting to imagine that the Psalmist went through the experience he describes in the same short amount of time. But it seems more likely to me that the Psalms are a record of what happened over several days, or even months. The first few verses of a given Psalm may describe what the Psalmist was struggling with in summer. The last few verses may describe the joyful resolution that came in autumn.
My intractable problems? Perhaps they'll be solved tomorrow, or next week, or next month. Then I can finish the Psalm.