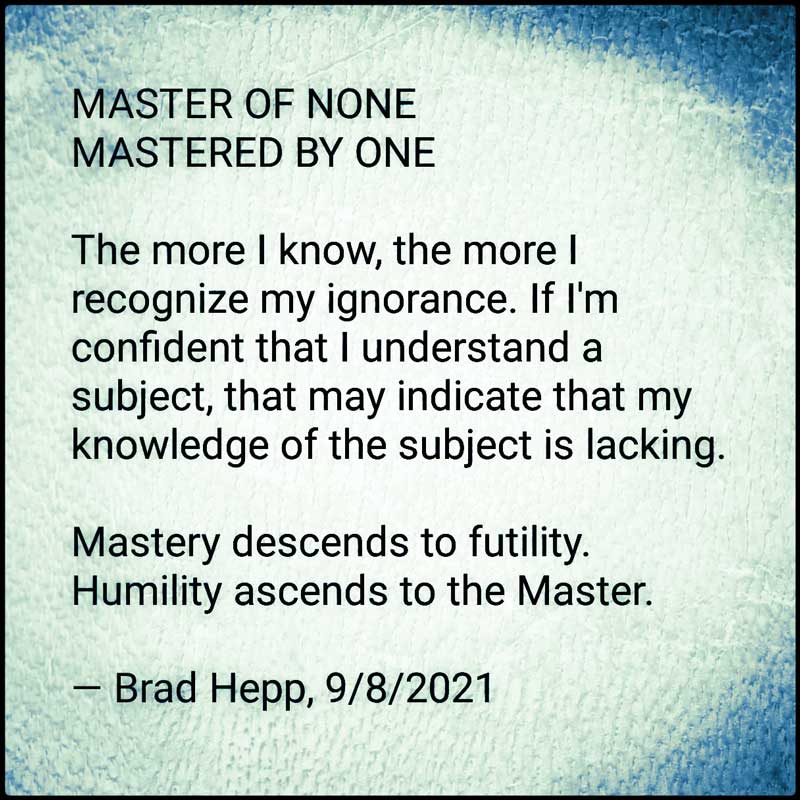 Commentary
The morning that I wrote this, I had read a post on the meaning of "headship" in the Bible (https://juniaproject.com/5-myths-of-male-headship/). The subject of egalitarianism versus patriarchy or complementarianism is one of several that I am revisiting now that I recognize how much my thinking has been tainted by selfishness. I haven't changed my opinion yet, but I'm more prepared than ever before to do so, if the evidence pushes me that way.
I RECOGNIZE MY IGNORANCE
Anyway, while the article was well written, some of its greatest value was in the — mostly — intelligent and respectful debate carried on in the long comments section. I have enough training in hermeneutics and linguistics to recognize when someone else has far deeper knowledge than I do. Several such people showed up in this conversation. All the years I have spent learning about language… and still there are people whose expertise makes all my learning look like so much Play-Doh.
IF I'M CONFIDENT THAT I UNDERSTAND
One fellow in the comments basically said, "You're wrong little woman. You don't know much. I'm an expert. Now shut up." To the extent that I ever respond with such hubris, may God have mercy on me. May I always remember how foolish that little, little man appears.
DESCENDS… ASCENDS
When I recognize my limitless limitations (the futility of mastering anything), the appropriate response is to acknowledge that my Savior and Master is all-wise, all-knowing, and all-good.