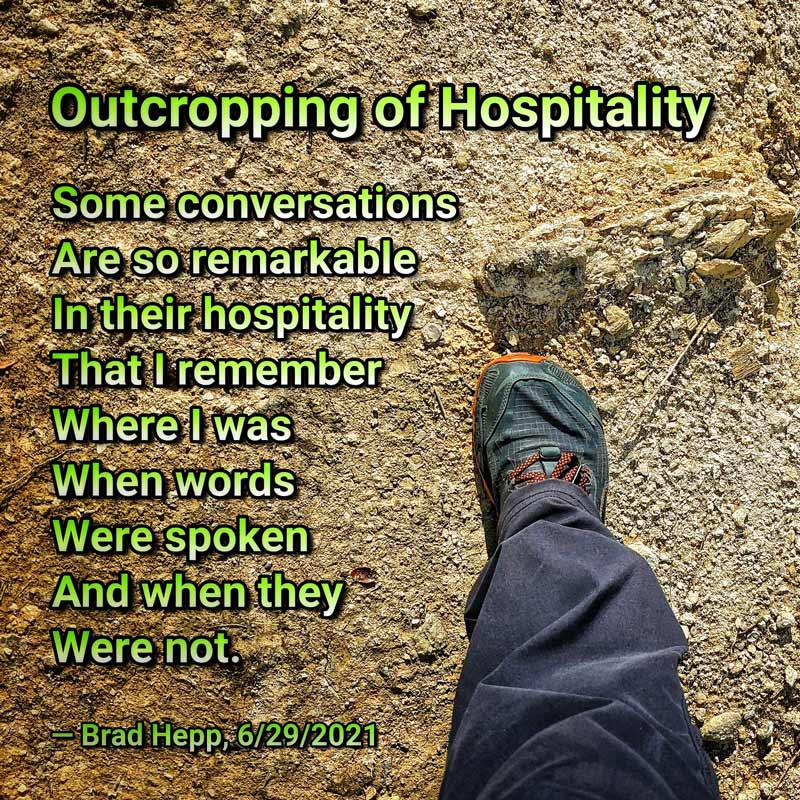 Commentary
About four miles into my hike, I called one of the ladies in our church. I rely on her for advice.
"Do you have time to talk?"
"Yes," she answered.
For the next two miles, we talked about hospitality. By the time I reached my half-way point, we had thought through several options for how our church can practice hospitality in this lingering pandemic. We wrapped up the conversation.
"Thanks," I said, hung up the call, and began retracing my steps to home.
As I walked, I reflected on how hospitable my friend had been to me in our conversation about hospitality. "Here, where the weeds give way to a mowed meadow… it's one of several places in the path where she suddenly grew silent, yielding to my impetuous mind." There, where rainwater recently rushed through the grass, "I was babbling, while she listened politely." Up the white rock path a ways, I remembered what solid footing I felt when we shared a memory of Amor Towles' A Gentleman in Moscow. There, where petrified wood sticks out of the limestone… "That's where I was stepping when she recalled how Count Rostov arranged the seating at dinner parties, thus insuring a perfect evening for everyone."
These weeds, that grass, this petrified wood in a limestone path…. Insignificant, except when they mark moments in a good conversation, an outcropping of hospitality.