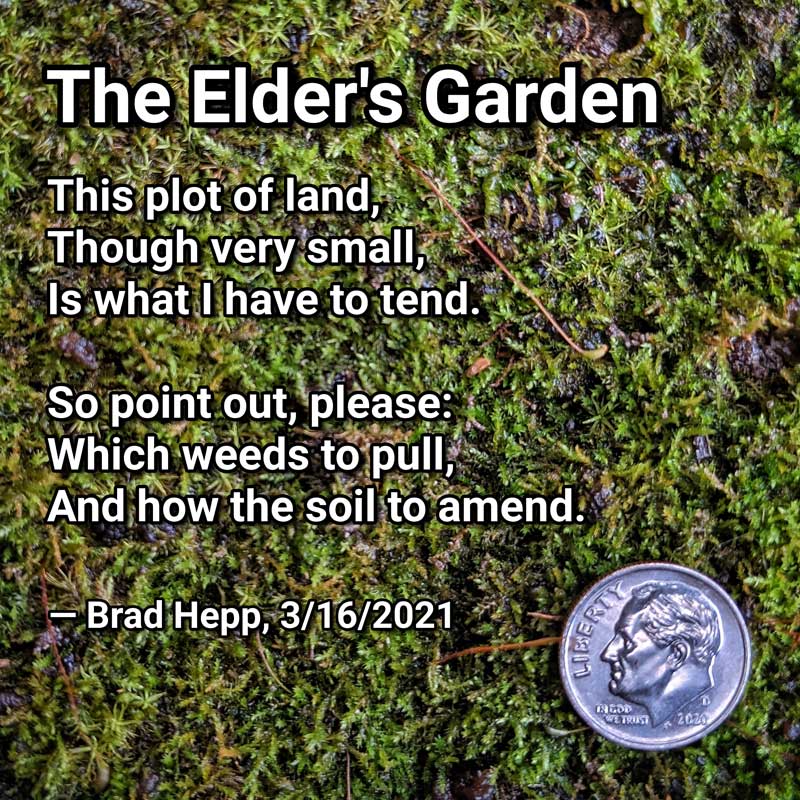 Commentary
I covered what used to be the walkway leading up to the glass door and windows of my office with moss. It's a far more pleasant vista when I'm working than the concrete walkway ever used to be. Along with the moss that I "liberated" from stream banks, there's a mass of wild violets, also "liberated" from vacant fields. Finally, there's an area where wheat grass will soon be sprouting for our cat.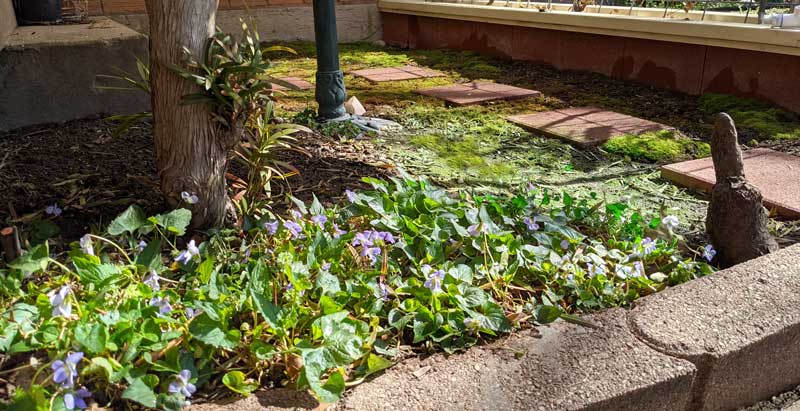 Invariably, my transplants bring in some weeds and even fungus. Last year, I watched what would happen if I left a big puffball mushroom to "do its thing." Its "thing" turned out to be killing a section of the moss. So this year, I'm being diligent about removing fungus as soon as I notice it growing in amongst the moss.
WITCHES' BUTTER
One annoying invader is a small black, gelatinous fungus that really seems to enjoy the moist environment. If you look real close in the background image for the poem, you may be able to see some that remains after I spent 20 minutes picking it out this morning. If I'm not confusing it with another fungus, it goes by the names "Black Jelly Roll Fungus" and "Witches' Butter." Yuck! I like my butter yellow, not black.
PRAYER
So, while picking out that fungus, my mind turned to invaders that have destroyed the lives of family and friends. Initially, what came to mind was cancers: brain cancer, bone cancer, etc. I prayed for friends who are still fighting this battle. But then, my mind turned to other invaders, like hatred and bitterness. Other acquaintances came to mind, and I prayed for them.
Prayer is an increasingly important part of my life. Soon after I became an elder in my church, it began to dawn on me that I will somehow be held accountable for the spiritual health of people in my care. In that day, I want to be able at least to say, "Lord, I asked for your intervention. There was far more than I could handle."
Have confidence in your leaders and submit to their authority, because they keep watch over you as those who must give an account. Do this so that their work will be a joy, not a burden, for that would be of no benefit to you.

Hebrews 13:17
P.S. The dime was there in the photo initially because I was trying to identify the fungus, and I needed it for scale. Then, when I wrote the poem, I realized that the dime could be left in the photo… it reinforces the smallness of the plot. If I think long enough, I may realize there was some other, subconscious reason for leaving it in there. I hate to admit it, but I don't always KNOW what I'm saying or why!