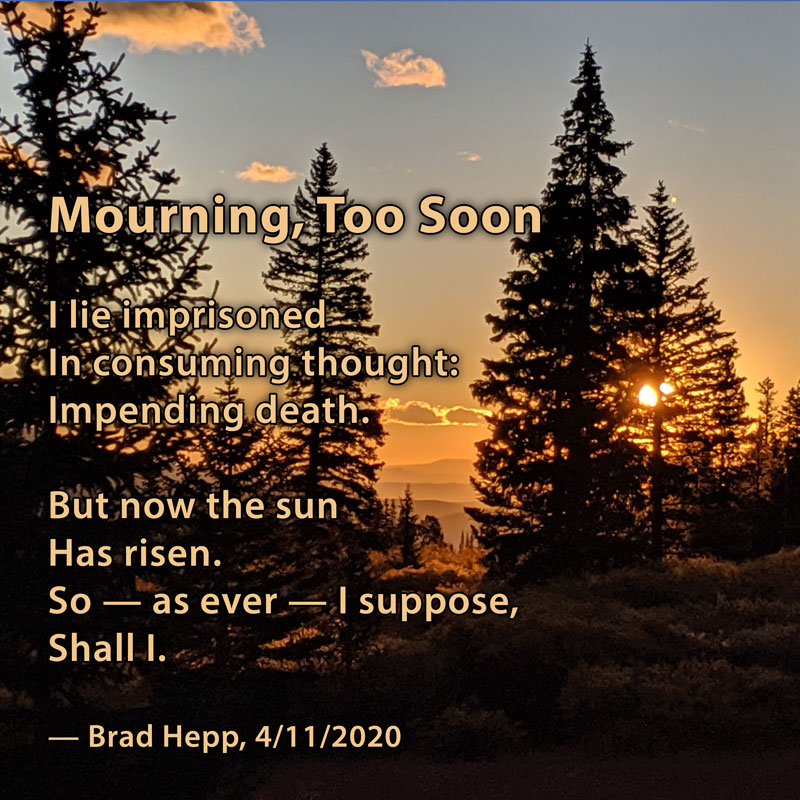 Commentary
This is not an Easter poem. Or is it?
I jotted this down yesterday morning after a sleepless night, one where an admittedly minor ailment was reminding me of what took the lives of my parents. I'd have posted it yesterday, but ran out of time. Now, as I post this, it is Easter.
If you see ambivalence, mixed with annoyance, mixed with underlying hope, you see well. Hopefully, my reading of the poem (above) will reveal the negative side of my feelings.
The background photo is one I took up in the mountains last year on a similar morning, after a similar night.
Here is an exchange I had with a concerned friend, when he asked about the ailment. After describing the ailment, I wrote:
So, the poem was written out of fear and mild exhaustion, but with the realization that I was not acting in the full hope that often moves me. It's full of double meaning.
Darol responded:
Yes, the middle of the night amplifies our fears and disappointments. I tell myself that the daylight will scatter them, and that they will end forever in that eternal morning.
Good, wise friends. They're the best!