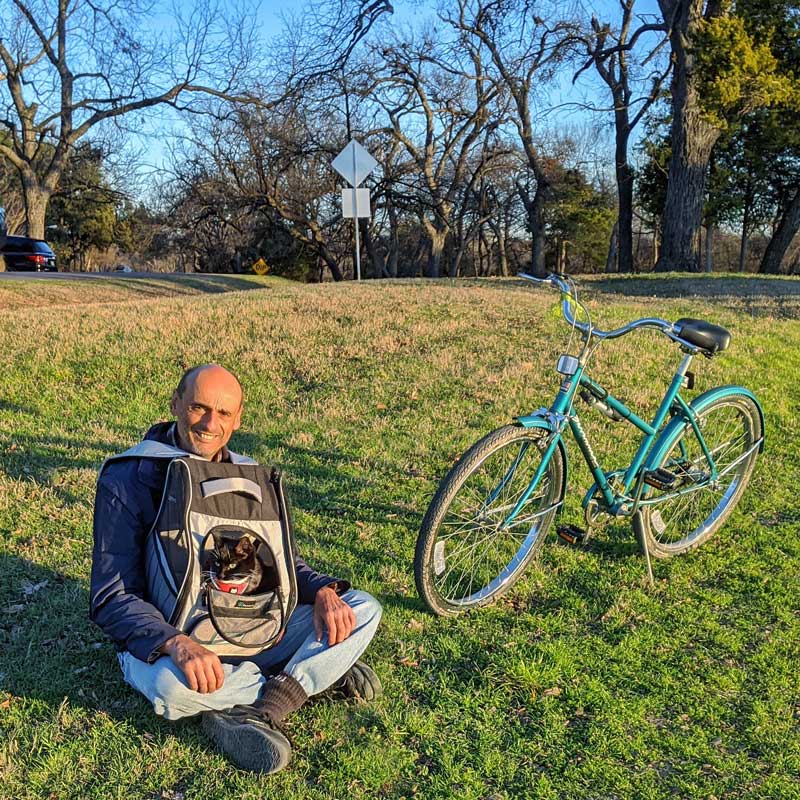 I walked right past this man on one of my hikes around White Rock Lake. But then I turned and asked "May I take your photograph?" I couldn't understand his response, but he seemed to be saying "Yes." We soon discovered that both of us speak Spanish, and I learned that he is from Valladolid, Spain. He says that the cat really seems to enjoy riding in this carrier, and it doesn't tire him at all to carry her that way.
Since my shadow was falling right between him and the bike, I walked back just a little on the path and took my photo from there. Below, you'll see the original. Late afternoon sun casts such yellow light that I reduced the warmth in order to separate the colors a bit. It's still too yellow, if you ask me, but you can only push color so far before it looks fake. As you'll see from the original, the bicycle was positioned too far from the man for an effective square crop, so I did what I rarely ever do: cloned with Photoshop. That's how I moved the bicycle closer to him. Can you see my error? Look closely at the left handle bar in the photo above. And now that I look more closely, I see another two other errors. Good thing nobody was paying me for this!
Original Photo: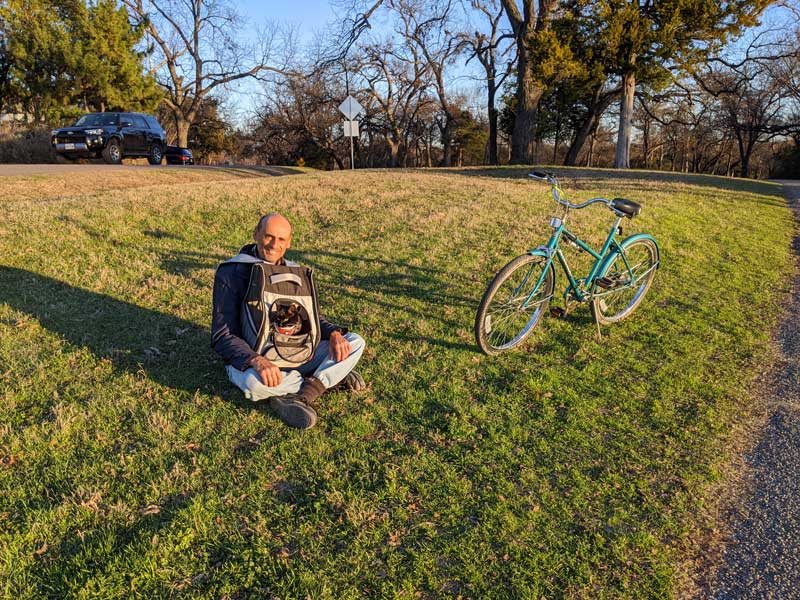 [EDIT 1/31/2020]: I ran into Raul again today. This time he was without cat. We sat on a park bench by the lake about 20 or 30 minutes and talked about Spain (he returns in two weeks), the history of the Moorish conquest of Spain, work attitudes in Spain versus the U.S.A., and unemployment there. He says there's 20% unemployment (50% among young people under 35, who end up living with their parents as a result). He attributes the lack of enthusiasm for working in Spain to low wages and the fact that everyone is paid the same. On the one hand, it sounds dreary ($1000/month average income), but then the simpler life there sounds attractive. Raul is mid-50s, and is already retired. He says that's common. He was astonished when I told him I expect to do some work until I'm 70. I didn't tell him that my Dad was doing heavy-duty theology and writing well into his 80s. More than once, Raul pointed to his watch, exemplifying how the Spanish worker watches the clock. He said many do that right up until they retire, and then — shortly after — they die. My Spanish may be attrocious, but I'm pretty sure it's a relief to Raul to hear it, even if butchered by a Gringo.