I had just read Malcolm Gladwell's Outliers, and was eager to discuss the book with my climbing buddies on our trip to Colorado. Gladwell explores the question of what makes some people — outliers — wildly successful in their particular quests. Jon Klaus had also read the book.
"Being an outlier isn't always good," he said.
Jon's quick response was surprising. I assumed he was speaking from experience. Jon is a successful serial entrepreneur. However, over the course of our trip, it became clear that Jon's concern was not for himself but for his son.
Joshua Klaus was with us on this mountain-climbing trip. In the seven years since he last went climbing with his dad and the rest of us, he had turned from a fun-loving boy to a brilliant, thought-loving man… a serious "outlier."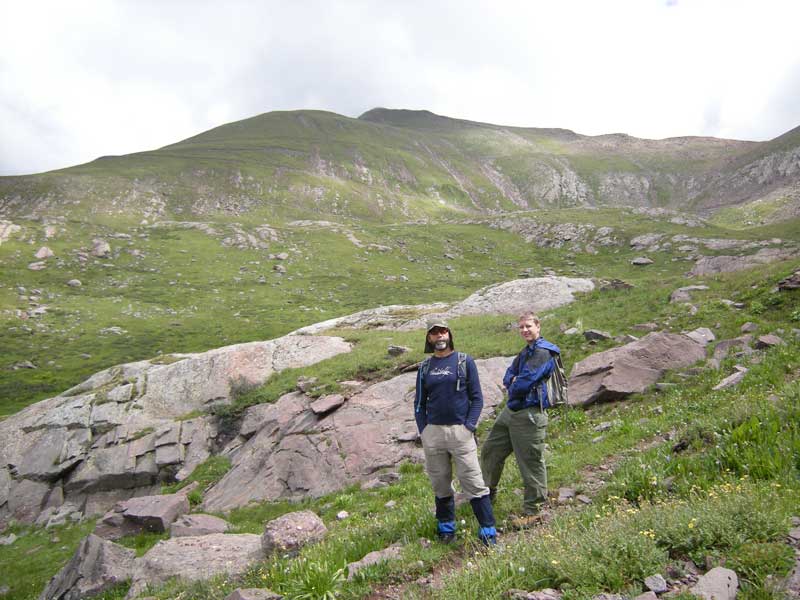 In the thin air of mountain campsites, we always have interesting conversations. But nothing had prepared us for the conversations that Joshua would engage us in. Because he is brilliant, and intellectually honest, Joshua had followed certain true ideas to what he thought were their logical conclusions. Neither his dad nor the rest of us were comfortable with those conclusions. We perceived them as dangerous.
I'm not going to tell you the ideas, because I cannot do justice to Joshua's reasoning. In any case, as you'll see below, it was not the ideas themselves that were at issue.
Among the veteran mountain climbers on that trip, two of us are seminary graduates, one is a corporate lawyer, and perhaps the smartest guy is an electrical engineer who devises spy gear for the military. Sitting around the campfire, we tried to punch holes in Joshua's reasoning. Now, you or I might have been convinced by our arguments, but Joshua was not. This wasn't his first intellectual rodeo.
We climbed the mountain and then headed back to Dallas. Something happened on the return trip. Here's how Jon describes it:
Both Joshua and I look back to our 2017 climb with y'all as pivotal in numerous ways. We had cracks in our relationship, but there was healing because of your input on the drive back to DFW. That has continued, and both Josh and I are growing in grace.

Jon Klaus
I think I saw it happening.
On the drive back, all of us had made what I considered thoughtful, wise comments to Joshua. But then, I listened and watched as one of us made comments that were almost otherworldly in their kindness, love, and wisdom. These comments were an outlier among all the words we'd spoken, and this outlier was very good indeed! The words were full of grace. Like the words of everyone else on that trip, they were gracious. But they were more than that…. God's grace is His kind provision of what one needs to respond well to Him. Such were the words in this comment. The speaker seemed to be empowered by God's Spirit and Joshua seemed suddenly better able to hear and respond well. God's grace was on display. In that moment Joshua teared up and bowed his head.
Our conversation ended, and another, silent one began. I like to think that God was speaking to Joshua's heart.
The poem below was not written with this incident in mind, but it might as well have been. The background photo is from the mountain-climbing trip where I saw God's grace on display. Joshua and Jon are the two standing to the right of the campfire.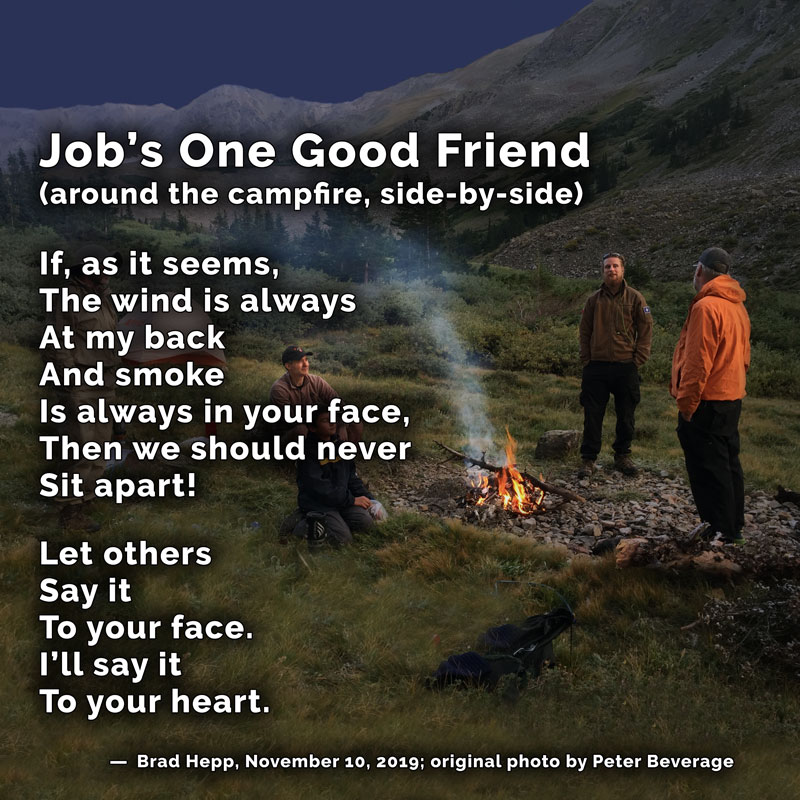 *It's two years later. You have read Jon's description of how cracks in his relationship with Joshua began to heal as a result of the gracious input I described. This coming weekend, Jon and his family are doing a walkathon to help the mission organization that Joshua works with in France. I'll be contributing a modest sum to that effort in recognition of how God allowed me to see His grace on display, and the encouraging reminder I was given two years later.
If you'd like to join me in recognizing God's grace, go to the fundraiser page: https://www.gofundme.com/f/support-walk-for-ywam
Or, click the image below for a PDF of the fundraiser flyer: