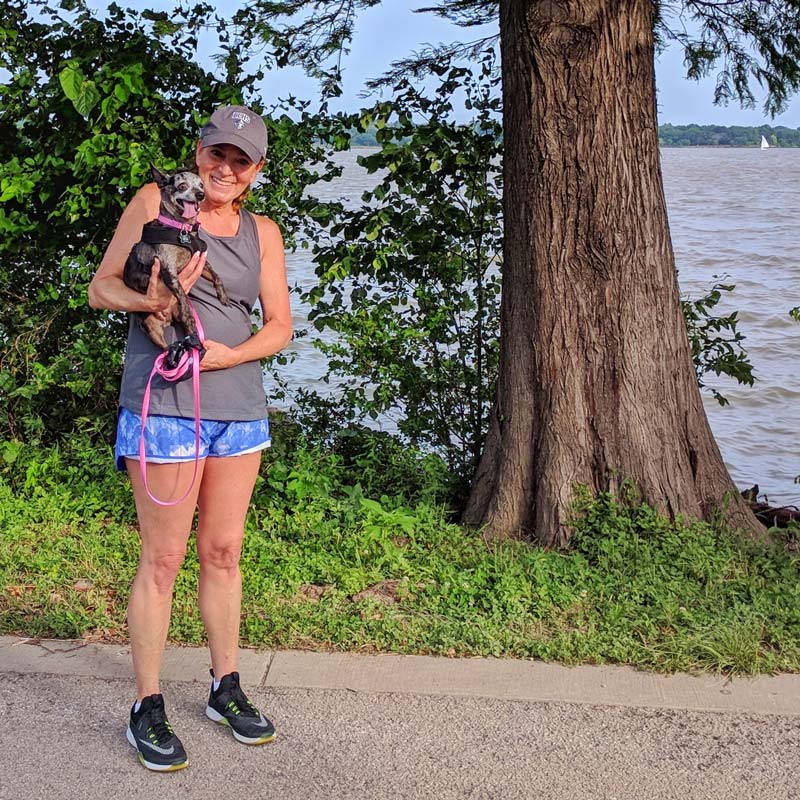 LISTEN:
As I walked along the shore of White Rock Lake, this runner and her dog kept pulling ahead of me, only to fall behind again whenever they got to a tree. Each time, the lady would stop running and stand there patiently while the little dog sniffed around and looked intently up in the branches.
"What's so important," I asked myself, "that this lady is willing to break up her run?"
Finally, I drew even with them again and said, "Please forgive my curiosity. Why do you stop at every tree?"
She smiled and said, "Oreo is hunting squirrels. She also hunts for snakes, and sometimes she even finds them!"
Approvingly, I answered, "And you honor Oreo's wishes! May I take your picture? People seem to like it when I share my delightful discoveries at the lake."
"Sure," she said. "I'm Molly."
"God bless you, Molly. I'm Brad."
A Retrospective on this Story
When I shared this on Facebook, I wrote
"Please forgive my curiosity…" That's the opening of many a delightful discovery. READ or LISTEN to this story. You'll see that I sometimes understand runners more than dogs, and achievement more than honor.
I'd love to get to the point where I can recognize and quickly acknowledge/articulate God's image reflected in those I meet (and those I've known for a long time). When the event described above was happening, I sensed there was something special in the way Molly was treating her little dog. We talked a little more and I found out that Molly has not been a "dog person" most of her life. But recently she adopted this spunky little one-eyed dog who Molly says is "almost perfect, except that she sometimes nips me." The word that immediately came to mind is "honor." Taking time to let a little dog fulfill its purpose in life — to hunt! — seems like a good picture of what we're called to do for people:
Honor all people. Love the brotherhood. Fear God. Honor the king.

1 Peter 2:17